Raksha Bandhan: A Day to Celebrate Sibling Love
A thread so strong to hold the purest of love. A bond that's beyond boundaries, customs and society. A love that knows no bounds and conditions. And a relationship that withstands the test of time.
Yes, you have all guessed correctly. We are talking about Raksha Bandhan. A day that symbolizes the love of a brother-sister relationship. No matter the country, culture and religion, a sibling relationship has always been the same everywhere. But, in our country India, we have a whole festival dedicated to the siblings bond.
Raksha Bandhan. A promise of a brother to always protect his sister and be there for her at the times of crisis. A prayer of a sister for the happiness, joy, safety and prosperity for her brother. A bond that represents the sibling love.
All about Raksha Bandhan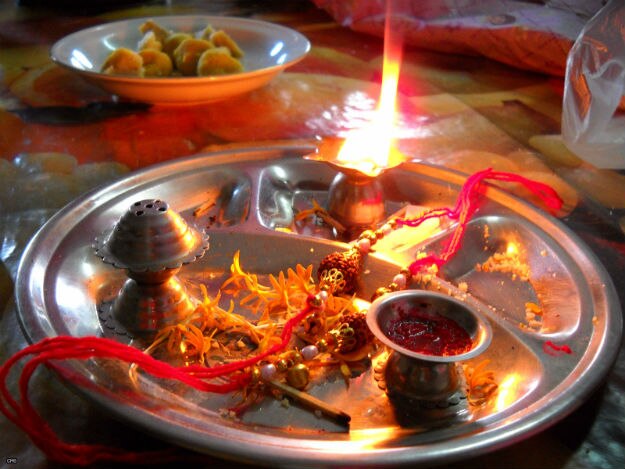 The word Raksha Bandhan is a combination of two words: "Raksha" and "Bandhan". In Sanskrit, it means "tie or knot of protection".
It's a special Hindu festival which is celebrated in countries like India and Nepal to symbolize the love between a brother and a sister.
The festival of Raksha Bandhan is celebrated on the full moon day of the Hindu luni-solar calendar in the month of Shravana, which usually falls in the month of August.
During the festival, sisters tie a colourful band to their brother's wrist, also known as Rakhi, showing their sentiments for one another.
Once the Rakhi is tied around the wrist, the sister prays for her brother's happiness, safety and prosperity. She also organizes the Pooja thali that includes Rice, sweets, Diya and roli. In response to the Rakhi, the brother promises to protect his sister and gifts her something in return.
The festival is not just for blood relations but can also be celebrated between brother-sister belonging to distant family members, relatives or cousins.
There's no other love like the love for a brother. There's no other love like the love from a brother.
Astrid Alauda
Legends linked to Raksha Bandhan
There are many legends that are linked to the significance and origin of Raksha Bandhan. The festival is known to have originated centuries ago and there are several stories related to the celebration of this special festival.
Some of the most common and well-known legends are:
The most popular story in Indian mythology is of Lord Krishna and Draupadi. The story traces back to when Krishna cut his little finger while handling sugarcane. His Queen, Rukmini immediately sent for bandages. Meanwhile, Draupadi, who was watching the entire incident, cut off a little bit of her Saree and tied it around Krishna's finger to stop the bleeding.
In return, Krishna promised to help her out in whenever she needed. Later on, during the unceremonious disrobing of Draupadi, Krishna came and made her saree never-ending, saving her from the embarrassment by giving her protection. That way, he fulfilled his promise of protecting her.
According to another legend, the ritual of Raksha Bandhan was also followed by Yama, the Lord of Death and Yamuna, the river that flows in India. The story goes that Yama did not visit his sister Yamuna for a period of 12 years. On the advice of Ganga, Yama went to meet his sister.
Then, Yamuna tied a Rakhi to Yama. He was so impressed and touched by the serenity of this custom that he granted her immortality. And also so moved by the gesture, he declared that any brother who has tied a Rakhi and offered to protect his sister would also become immortal.
Rani Karnavati and Emperor Humayun
Another famous event related to the history of Raksha Bandhan is of Rani Karnavati and Emperor Humayun. Karnavati was the official ruler of Mewar after the death of her husband Rana Sanga. She ruled in the name of her elder son Vikramjeet.
When Bahadur Shah of Gujarat attacked Mewar, Karnavati began looking for support from other kingdoms. At last, she sent a Rakhi to Emperor Humayun with a request to save her dignity. He got enthused by such gesture and decided to defend Chittor with his army.
Unfortunately, he never made it on time as rani performed Jauhar and sacrificed her life. However, Bahadur Shah could not go any further and had to turn away from Chittoor as Mughal military reinforcements arrived soon after. Humayun then restored the kingdom to Karnavati's son, Vikramjeet.
A Perfect Gift for Raksha Bandhan
Many of you would be wondering what would be the perfect gift for your sister/brother. Well, if haven't buy anything yet. Then, Hurry up! What's better than a perfect gift hamper.
Gift hampers have become very popular these days. The best feature of them is that they contain a variety of products. Also, let's not forget their amazing packing. Which make them a perfect option to gift to your sister/brother on Raksha Bandhan.
We have a huge variety of gift hampers that contains beauty products, Ayurvedic products, men's care products and many more. I am sure your sister/brother will be thrilled to receive them on Raksha Bandhan.
Have an Enjoyable & Memorable Raksha Bandhan